How to prepare your car for winter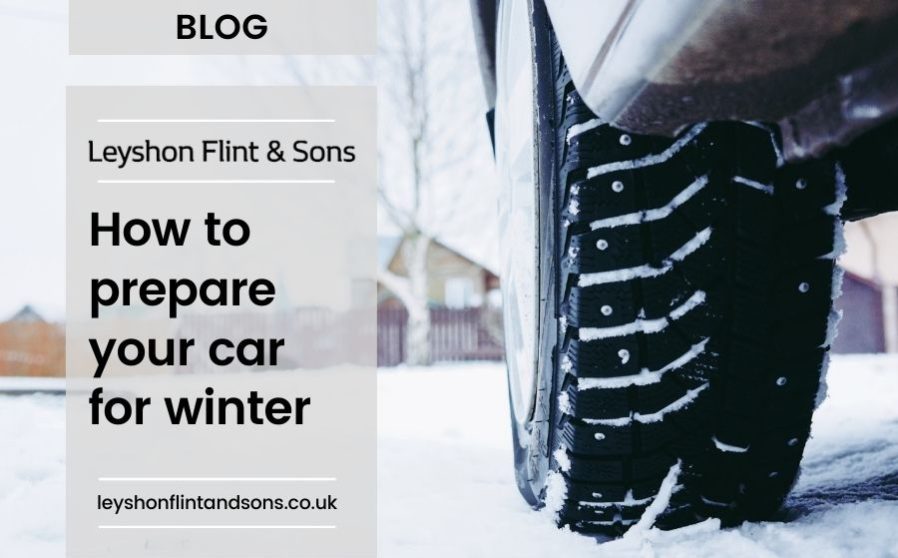 Winter is just around the corner, so it is time to be prepared and avoid any problems that the weather conditions may likely bring to your vehicle. If your car is soon due a service, now is the best time to get your vehicle booked in. Getting a winter car service allows your car to be fully checked and serviced before the bad weather conditions hit. Because of the colder temperatures and poor weather conditions, the number of breakdowns is anticipated to rise significantly. So here are some tips to get prepared and ensure that both you and your car get through the winter safely.
Check your cars battery
One of the first things you should do is check your battery. A car battery's life lasts around five years. If your car's battery struggles to supply enough power to start, it's probably on its way out. This could likely cause you to be stuck broken down in unpleasant weather conditions. Your car battery not only powers your engine, but also your lights, heaters, blowers and everything else electrical in your car, which is why it is critical for your battery to be in good operating order. With the increase use of your lights, heaters and blowers throughout the winter months, your car battery output is lowered as it is put under additional strain. You may wish to visit your nearest dealer to acquire a new battery before the winter weather hits.
Examine your tires
A car's tires must be in good condition as they are so important for steering and braking. This goes for any weather conditions, but it is especially critical when the ground is wet and icy. You can inspect your tire pressure and tread depth, during the winter. 'A minimum of 3 mm depth is recommended, rather than the required minimum of 1.6 mm', this provides superior grip and more safety for you and your vehicle. You could also consider switching to winter tires, which provide better grip, and also allow you to stop faster in an emergency.
Check your lights
You should regularly inspect and clean your lights, indicators and reflectors. Salt and grime can quickly accumulate, reducing the efficiency of your lights and your visibility to other road users. It's essential to have your lights on in all weather conditions so that you can be seen, so it's important to always check that your lights are clean, especially in winter. Ensure that there are also no cracked lenses or blown bulbs. Carrying additional bulbs in case one fails may be handy, but learn how to replace them, because you can bet that when one fails, it will be dark, cold, raining or even snowing.
Get a winter car cover
During the winter, most people find it difficult to clean and scrape ice off their vehicles every morning. This is made considerably more difficult if you are in a hurry. That is why you may wish to invest in a winter car cover. The cover will protect your car from freezing over, allowing you to avoid the burden of having to clear your car windows every morning.
Add antifreeze to your engine coolant
This is necessary when temperatures drop below freezing, but make sure the proportions are correct. Water and antifreeze should be mixed 50/50 in the engine coolant. Many people often make the mistake by topping it up with water throughout the year which causes the antifreeze to become over-diluted and freeze when winter comes around. This can cause the engine to overheat, resulting in a hefty repair price.
Get an oil change
If you haven't gotten your oil changed in a while, now is the time. According to the RAC, one out of every three vehicles is dangerously low on oil. This can result in a breakdown or, in the worst-case scenario, catastrophic engine damage. Check that your oil level on your car's dipstick is within the minimum and maximum marks, and top it up if necessary. There are also oils recommended for winter, they have less viscosity which will assist the engine run more effectively.
Prepare for your journeys
Check the weather forecast, travel news, and the safest routes before leaving, especially for a lengthy journey. This allows you to assess whether the weather conditions will affect your journey and at what time may be best to set off. You should also leave additional time for your journey to avoid needing to rush. If the weather forecast isn't looking good or provides any warnings, consider whether your journey is necessary.
Pack an emergency kit in your car
Emergencies occur, and they're more likely to happen in winter, along with bad weather conditions. You should be prepared for your car to break down or if you get stuck in a snowstorm. Pack an emergency kit in your car with some essential items that will help you if you find yourself stranded this winter.
If you have any queries about your vehicle in these upcoming weather conditions, contact your local car dealer and get your car checked out this winter before it becomes too late!