The Eden Project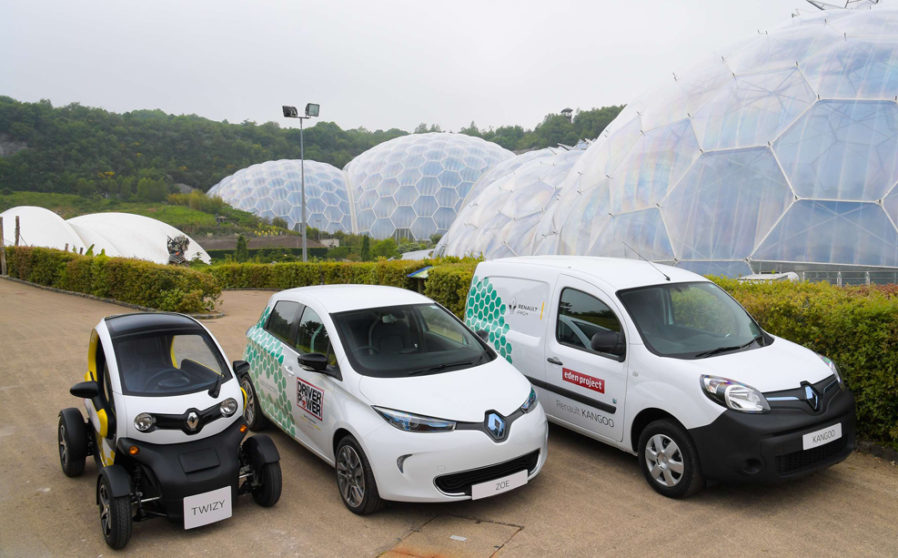 The Eden project has recently taken on another delivery of 19 new 100% electric Renault vehicles.
These new vehicles are the latest development in our long-running partnership with the Eden Project, and will enable the park to further demonstrate the environmental benefits of electric vehicles.
Comprising of three new Renault ZOE hatchbacks and 14 Renault Kangoo Z.E.s, the vehicles have replaced the previous EV fleet, and are a welcome addition to the compact Renault Twizys.
Compared to equivalent diesel and petrol vehicles, the original fleet has saved nearly 17 tonnes of CO2 since its inception in 2016. They have clocked up nearly 94,000 miles in and around the award-winning facility.
With zero tailpipe emissions and being near silent in use, the vehicles have very little impact on the tranquillity and striking landscape of the Eden Project.
During the last two years the lack of noise has allowed the busy Eden Live Team to work around the clock without affecting the visitor experience. The fleet has also helped to chauffeur presenters and celebrities when filming the wide variety of events that the renowned Cornish venue hosts every year.
Rita Broe, Marketing Director of the Eden Project, said:
"We're very pleased with our continuing partnership with Renault and it's great to welcome these new electric vehicles into the Eden fleet. The electric Renaults are the backbone of the Eden Project, playing a vital role in the operations of nearly every team here. The beautiful fleet of vehicles suits our purposes perfectly, doing everything we need them to do while having minimal impact on the environment and communicating important messages about sustainability to our visitors. We're very grateful to Renault for their ongoing support of our work."
Renault is the leader in electric vehicle sales in Europe. The award-winning Renault Z.E. range consists of the ZOE hatchback, the Twizy – a fun, distinctive, urban runaround – and the Kangoo Van Z.E.
Renault is a pioneer of the electric vehicle market with more than 100,000 EVs sold worldwide to date.
The world-famous tourist attraction has been using the Renault ZOE, Twizy and Kangoo Van Z.E on site since 2016.
Staff at Eden drive 18 of our innovative 100 per cent electric vehicles for various jobs across the beautiful site in Cornwall. The compact Renault Twizy can negotiate the entire pathway network of Eden and is even allowed to drive into the climate-controlled Biomes with their rainforest and Mediterranean horticulture.
In addition, Renault ZOEs are used for visitor services and Kangoos are used by maintenance, horticulture, security, live programming and catering teams. The use of the fleet signifies the strengthening of the longstanding relationship between Europe's leading electric vehicle manufacturer and the world-famous UK tourist destination.
Electric Cars at Leyshon Flint & Sons